Hull council deal secures ex Connaught workers' jobs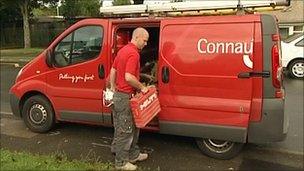 More than 120 jobs have been saved after Hull City Council awarded a contract to a company which bought a collapsed building firm.
Connaught, which was contracted by the council to repair and maintain council houses, collapsed last month leaving jobs under threat.
Outstanding contracts have been offered to Lovell which bought the company.
Mike Adamson, Hull City Unison branch secretary, said: "This is a victory for solidarity and trade union pressure."
Hull City Council said the decision meant more than120 jobs had been secured.
Councillor Mike Ross said: "Throughout this whole saga we have worked hard to ensure that maintenance of our tenants' homes was unaffected.
"In making this decision today we have also ensured that over 120 local people have kept their jobs."
Related Internet Links
The BBC is not responsible for the content of external sites.