Hundreds attend meeting over Grimsby school merger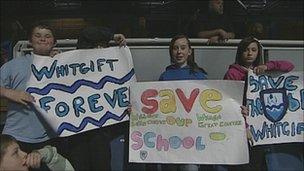 There were angry scenes as nearly 700 people attended a meeting over plans to merge schools on a Grimsby estate.
North East Lincolnshire Council wants to save money by cutting surplus places at schools on the Willows Estate.
The authority has put forward two options, one of which could see up to four schools close. The other could see a number of primary schools merged.
Parents spoke of concerns for their children's education during the public meeting at Grimsby Auditorium.
Of the options being considered by the council, one is to close Willows Primary School, Great Coates primary and Littlecoates primary and then to expand Whitgift secondary to an "all-through school" for pupils aged three to 16.
The second option is to close Whitgift school, Great Coates, Willows primary and Littlecoates and open an amalgamated primary school for children aged four to 11.
Parent Tracey Walsh said Whitgift school, where her son is taught, was a "good school" and should not be closed.
Another woman said she was unhappy with both options, as she thought it would be inappropriate for primary and secondary pupils to attend one school together.
"I don't want my six-year-old daughter mixing with 14, 15, 16-year-olds," she said.
The meeting was originally meant to be held at Whitgift school last week, but was rearranged after the venue was overfilled with parents wanting to have their say.
After Tuesday night's meeting, some parents complained they did not have enough time to ask questions.
Councillor Tony McCabe, who has responsibility for education on the council, said: "I think there should be a secondary school here, and obviously there should be primary schools here, but the situation is that with falling rolls amongst the primary and the secondary schools I think we are at risk.
"We think this is the best thing we can do. There has been some clumsiness maybe with what's gone on here but I wouldn't be doing this if it wasn't to preserve education in the area."
Related Internet Links
The BBC is not responsible for the content of external sites.