Hull family's Facebook warning after burglary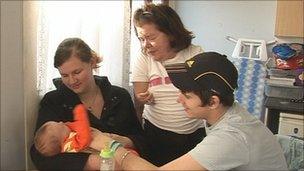 A Hull family were burgled after revealing on Facebook they would be out of town while their newborn baby had life-saving heart surgery.
The Leighton family believe they were targeted after keeping relatives updated about baby Kai's condition through status updates on the website.
Electrical equipment was taken from the home in Bransholme while the family were at Kai's bedside in Leeds.
They have warned others about posting sensitive information on the internet.
Kai's father Haydn, 16, said: "Don't put anything on your statuses about you going away and leaving the house by itself or you'll become a victim like us.
"We have paid the price for advertising that."
Haydn's mother Julie Leighton, who lives with him and Kai's mother, said: "I just hope to God that the people who did this don't ever have to go through what we went through in the last six weeks because then they would really know how it feels.
"We nearly lost something more precious than televisions and DVDs and Xboxes."
Humberside Police said burglars broke into the house on Hartland Close between 2100 BST on Thursday 14 October and 0900 BST on Friday 15 October.
A spokesman said: "Police are warning people not to advertise that their properties are empty and also urging people not to include detailed profile information like full addresses on the site."
The force has appealed to anyone with information about the burglary to contact them.
Related Internet Links
The BBC is not responsible for the content of external sites.