Cash secured for North Lincolnshire play area revamp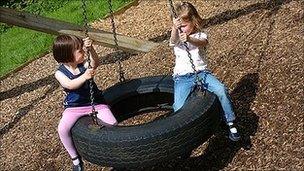 More than £500,000 has been secured for new play areas in North Lincolnshire despite fears funding would be axed as part of government cuts.
The council has already completed 11 new play areas but 12 more parks will now be revamped.
Earlier this year there were concerns the money would be scrapped as part of the government's Spending Review.
North Lincolnshire Council is one of only 20 councils nationally to secure all funds for the Playbuilder project.
Deputy council leader Len Foster said: "I said we would fight for this funding when the government announced in July that the scheme was under threat.
"This is one less cut for the people of North Lincolnshire to worry about and I'm delighted that we will soon be able to crack on with the new play areas and give more areas the amenities they deserve."
Related Internet Links
The BBC is not responsible for the content of external sites.