Uplifting Humber Bridge task for charity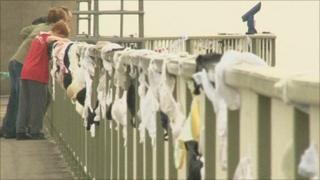 More than 3,000 bras have been chained across the Humber Bridge by breast cancer charity fund raisers.
The organisers of Bras Across the Humber worked out exactly how many bras would be needed to span the bridge and asked volunteers to donate them.
They have also been collecting cash donations for the Breakthrough Breast Cancer charity throughout October.
Organiser Sharon Blagdon said it took about 50 volunteers three hours to complete the bridge task.
The 3,500 bras were stretched across the 2,220m (7,283ft) bridge on Sunday.
Mrs Blagdon said: "There's been surprise, we've had a lot of beeps from cars, from motorcycles going past. It's been a really good reaction.
"We're hoping to raise over £2,000 but we are also donating all the used bras to Oxfam, who will then send them to a company called Wastesaver who send them abroad to people who really need them, so it's a double whammy."