Arts funding slashed by Hull City Council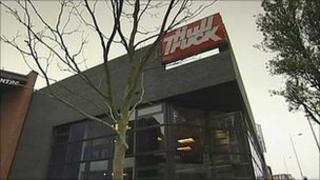 The renowned Hull Truck Theatre has had £100,000 cut from its budget as the city council tries to balance the books.
The move is part of the city cabinet's cuts to cultural services spending over the coming year, which also includes reducing the opening hours of museums.
But the cutting of £50,000 funding to the Freedom Festival has thrown its future into doubt.
Hull City Council said it had to be realistic about its finances.
Councillors heard cuts to the festival created "significant pressure".
The authority agreed cuts and savings as part of a £344,000 reduction in cultural services.
The city's Freedom Festival will now receive £200,000 from the council, but that still leaves a significant shortfall in the event's finances.
A document outlining funding options to councillors said shaving £50,000 from the event was an "option that creates significant pressure to deliver the Freedom Festival at the same level as 2010".
The council is also cutting £65,000 from its tourism marketing budget.
Cash is being saved from the Arts Development budget with a £7,500 cut and a "realignment of city events" will save £56,000.
And "vacancy management" within the workforce is expected to save £48,000.
City pride
Councillor John Robinson, who is responsible for culture, said: "What we're doing is defending and standing up for culture and artistic endeavours in the city.
"We've got to be realistic in the current climate about how much money we've got.
"But we do want to stand up for, and defend, things that Hull as a city is very proud of."
Andrew Smaje, the chief executive of Hull Truck, said the organisation was still a key part of the city's cultural identity.
He said: "The result is our public funding is going to be cut by £100,000 rather than £150,000 which is a great relief.
"Although it represents about a third, a cut of about 33%, from what the council were funding us by I think it still says very strongly that we're a key partner in the cultural offer in this city and this region."