South Yorkshire Police facing £40m in cuts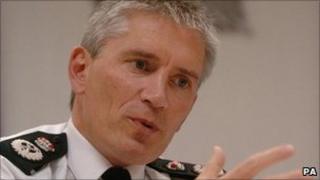 South Yorkshire Police Authority has announced plans for budget cuts of more than £40m over the next four years.
The authority, which oversees the force's finances, said it had been working with Chief Constable Med Hughes on details of the cost-saving measures.
They will begin with expected cuts of up to £15m in next year's budget.
The authority said the "range and level of services" provided by the force may have to be reviewed in the coming years as the savings were implemented.
Charles Perryman, chair of South Yorkshire Police Authority, said: "We know that the money will reduce and the challenge for the authority and the force will be to get the most out of every pound.
"We will be asking the chief constable to concentrate his resources on maintaining safer communities, and we will be supporting him in looking at new ways of working with partners to protect services.
"While we will be setting targets for cost reduction and improvement in productivity, we recognise that at some point over the next few years, it may be necessary to review the range and the level of services that are affordable.
"We will support the force in minimising the impact of any reductions which are forced on us because of the financial situation."
Mr Hughes said: "The next couple of years will be a challenge to our resourcefulness.
"Local policing has developed in a balanced way for very good reasons and there are risks that service options the public have come to rely on are cut out completely.
"Nevertheless, we have to be realistic and every public service will have to take a hard look at what it does and how it does it. We will work closely with the police authority to head off any adverse impact."
The South Yorkshire Police Authority has 17 members made up of councillors, magistrates and independent members