Snow closes Riddings School for most of week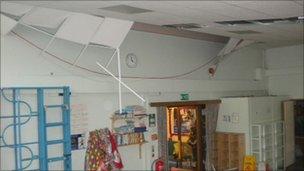 A school in Scunthorpe has been forced to close until Monday after snow caused serious damage to its roof.
Metal girders in the hall at Riddings Infant School have buckled under the weight of the snow which has been lying on the roof since last week.
Its 200 pupils have not been allowed into the school so far this week as safety assessments were carried out.
Structural engineers decided after inspections on Tuesday that it was not safe to reopen before Monday.
North Lincolnshire Council said the full extent of the damage had not yet been established, but the safety of pupils and staff was paramount.
Meanwhile, the town's education officials were working with the engineers to assess whether parts of the school could reopen safely.
If not, the local authority will look at placing children in other schools until repairs are completed.
It is not yet known how much it will cost to mend the damage.
The council said other schools in North Lincolnshire had suffered less serious snow damage, such as collapsed door canopies which had been secured.
Related Internet Links
The BBC is not responsible for the content of external sites.