Humberside firefighters march in Hull over planned cuts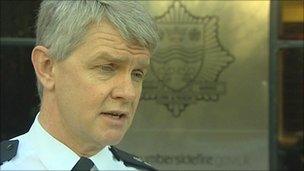 Firefighters protested in Hull on Saturday over proposed cuts which they say will hit front line services.
Humberside Fire Authority plans to make £7m of savings, including reducing fire crews from five to four, amid looming cuts to public spending.
The Fire Brigades' Union said the cuts would lead to delays in responding to emergency calls and put lives at risk.
However, fire service managers said they were confident the budget cuts would not compromise safety.
Humberside's Assistant Chief Fire Officer Dean Sanders said: "None of the proposals affect community safety, or indeed firefighter safety, in any way whatsoever.
"We have put a series of proposals forward that not only find a way to balance our books but also ensure that the level of service we provide to Humberside, which is excellent at the moment, continues."
Firefighters, officers and control staff took part in Saturday's demonstration in Hull.
After a march through the city centre, a rally was addressed by Fire Brigades Union (FBU) General Secretary Matt Wrack and local politicians.
FBU Regional Secretary Pete Smith said: "The proposals that Humberside Fire and Rescue Service have put forward for consultation are a backward step in terms of public and firefighter safety.
"Has it come to the point where fire and rescue services are being asked to place monetary values on lives just to appease a coalition government who have reneged on their pre-election pledges to leave front line services untouched?
"This is something the members of Humberside are unable to accept and have decided they will fight against.
"This march is a protest against proposals, which if accepted by Humberside Fire Authority members, will see less firefighters, less officers, and less fully-crewed fire appliances.
"Can anybody tell me less is more? When talking about a public service that deals with fire and rescue and lives are in the balance, I really don't think so."
Related Internet Links
The BBC is not responsible for the content of external sites.