Call to end dredging for scallops off east coast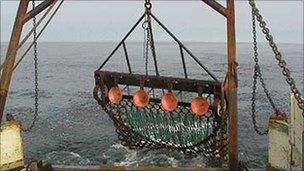 Dredging for scallops off the East Yorkshire coast should be stopped because it causes environmental damage, a marine conservation biologist says.
Professor Callum Roberts, of the University of York, said scallops were left when "everything else has been over-exploited".
Mr Roberts wants specific areas designated for scalloping.
But Gary Hogdson, of Bridlington and Flamborough Fisherman's Society, said local fishermen were not to blame.
Mr Roberts has argued that the European Commission should formulate regulations about how the industry harvests the scallops.
He said: "Scallop dredging as it is done at the moment is unacceptable.
"Essentially scallopers can go pretty much wherever they want, with few restrictions on where they can fish.
"So the destruction they can wreak on the seabed is almost unlimited.
"What the European Commission needs to do is establish areas that are alright for scallop dredging and keep the scallop dredgers out of the rest of the sea bed."
But Gary Mr Hodgson said it was not local small-scale fishermen who were responsible for the damage, adding: "To some it's a way of life and they wouldn't damage their own grounds but there are industrial-sized operations that do cause damage.
"I do think there's a place in the (fishing) industry for scallop dredging."
Related Internet Links
The BBC is not responsible for the content of external sites.