Reduced operation for Humber coastguard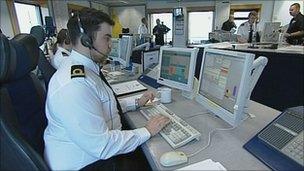 The Humber coastguard is to open during daylight hours only, as part of plans to re-structure UK stations announced by the government.
The coastguard, which services East and North Yorkshire and north-east Lincolnshire among other areas, currently provides a 24-hour service.
It will become a sub-centre, along with five others, under proposals to reduce the number of UK coastguard stations.
The Public and Commercial Services Union said it feared job losses.
A 14-week consultation on the proposals has started.
Humber Coastguard currently employs 29 staff and has its base in Bridlington.
The government has said the changes will allow investment in the service and that staff numbers will be reduced.
A spokesman for the Department for Transport said under the current proposals, the number of staff at Humber Coastguard was expected to be reduced to 10 by 2014/15.
He stressed that the proposals remained subject to consultation.
Val Jenkinson, of the Public and Commercial Services Union, which represents some of the Humber Coastguard staff, said: "People here are very concerned about job losses.
"We are pressing for no compulsory redundancies, and are hoping some will go through natural wastage."
She added that members had also expressed concerns about the service being provided from one of the other UK coastguard centres, when the Humber base was closed overnight.
Related Internet Links
The BBC is not responsible for the content of external sites.