Students end sit-in at Hull University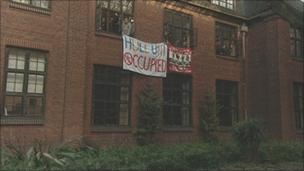 Students who had occupied a building at Hull University called off their sit-in on Friday lunchtime.
The party from Hull Students Against Cuts took control of the upper floor of Staff House on Monday morning.
The group, which is protesting about reductions in university funding and fee rises, said they had made their point, but it was not the end of their campaign.
The university said it had no comment to make about the protest.
In an e-mail the students said it was not an end to the campaign, but "a hiatus".
The e-mail said: "We have forced the university to listen to us and more importantly we have gained public, student, trade-union and university staff support culminating in the largest union general meeting for decades (on Thursday night) .
"Hull Students Against Fees and Cuts will be reconvening to plan the next part of the fightback in the new year."
Related Internet Links
The BBC is not responsible for the content of external sites.