Taxi 'hero' rescues crash driver in Grimsby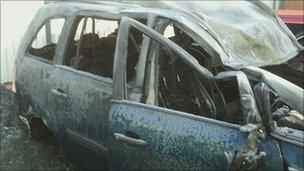 A taxi driver acted "with courage and heroism" pulling a motorist from his overturned car in Grimsby, moments before the vehicle caught fire.
The Vauxhall Zafira was on the A180 near the Pyewipe roundabout when it hit a lamppost and caught fire.
Humberside Fire and Rescue said passing cab driver David Gaunt acted selflessly in getting the driver out of the vehicle on Friday evening.
The driver, from Leeds, suffered minor injuries, Humberside Police said.
John Miller from Humberside Fire And Rescue Service said when the fire crews got to the scene it was "a fireball in the first lane of the carriageway".
Mr Miller said the driver of the car, who he identified as Benjamin Clarke, from Leeds, had been rescued in an act of "courage and heroism by the taxi driver.
Mr Gaunt said the car driver had been lucky to have escaped alive because of the severity of the accident.
He said: "As I got to the car the gentleman had rolled it three or four times and bent it around a lamppost.
"There was smoke coming out of the front end and a little flicker of flames.
"The gentleman was trying to get out and I dragged him out.
"I got him into the back of my taxi and wrapped him in a blanket to keep him warm while we waited for the emergency services.
"Then the car went up in flames, the front end was totally flattened, truthfully I don't know how the gentleman got out of there alive, if there had been a passenger in the car there's no way they would have survived."
Mr Gaunt said he did not consider his actions heroic.
He added: "You just don't think about these things, you just go ahead and do it."
Related Internet Links
The BBC is not responsible for the content of external sites.