Region has fewest applications for new supermarkets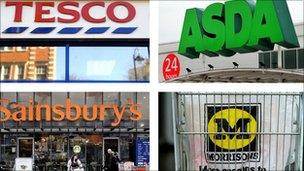 Councils in East Yorkshire and northern Lincolnshire have seen the fewest planning applications in England from the "big four" supermarkets.
BBC research has found that, since 2008, plans for three new supermarkets in the region and one application for advertising have been successful.
London has the most new stores with 110 approved over the past two years.
The figures were obtained by researchers looking at the expansion of Tesco, Asda, Sainsbury's and Morrisons.
Local authorities around the UK were asked how many planning applications had been successful in the two years, including those for existing buildings which had already been in use as shops.
Britain's planners have approved 577 stores from the four chains from 1 November 2008.
After London, the fastest growing region was the North West with 62 applications.
Of the successful applications made in East Yorkshire, two were for Tesco stores in Driffield and Hornsea.
Planners have also given the go-ahead to a new Morrisons in Goole, which opened earlier this year.
Decisions are pending for three new Tesco stores in Hull, Welton and Immingham.
Richard Kendall, head of policy at Hull and Humber Chamber of Commerce, said he believed the low number of supermarket applications was because the region was already well served.
"We're fairly well saturated already. For example in Hull we have several large supermarkets so people's needs are met."
Mr Kendall said when the new Tesco store had opened in St Stephen's in Hull, it had helped regenerate the area.
"New stores have to be judged on a case by case basis.
"Obviously we need to protect small businesses but large stores can have a fantastic regenerating effect and bring about developer contribution."
Related Internet Links
The BBC is not responsible for the content of external sites.