Crash 'hero' rescued Grimsby family from house fire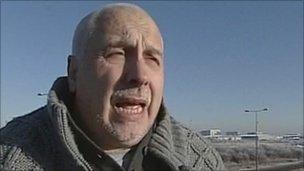 A taxi driver who pulled a motorist from an overturned car minutes before it caught fire has been hailed for his heroism before, it has emerged.
David Gaunt pulled the man from his car on the A180, near the Pyewipe roundabout in Grimsby, after it hit a lamppost on Friday evening.
The motorist, from Leeds, suffered minor injuries.
Mr Gaunt saved the lives of a family by helping them escape from their burning home 20 years ago.
The 1990 rescue was featured in the local press.
Ten years later Mr Gaunt was again making news for rushing a man who had been stabbed to hospital.
His employer Pamela Pollard said: "Dave, if you're in the darkest corner and you don't know any way out of it, it's his hand what pulls you out of it. That's Dave.
"He's like Superman. I'm going to make him a little superman's outfit for Christmas."
John Miller, from Humberside Fire And Rescue Service, said the motorist had been rescued in an act of "courage and heroism" by Mr Gaunt.
The taxi driver said he did not consider his actions heroic.
He said: "[The car] took two lampposts out, rolled over then the car started to smoke and flames came out the front end.
"I got the gentleman out and then the car went up in flames."
He added: "You just don't think about these things, you just go ahead and do it."
Related Internet Links
The BBC is not responsible for the content of external sites.