Royal Marine Mathew Ford's death: mother fights on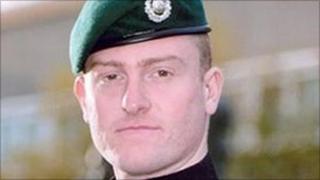 The mother of a Royal Marine from Immingham who was killed in Afghanistan has vowed to continue her fight to find out exactly how he died.
A Ministry of Defence (MoD) report in 2008 concluded that L/Cpl Mathew Ford, 30, was accidentally shot by a British soldier in Helmand on 15 January 2007.
However, an inquest in December 2008 proved inconclusive.
L/Cpl Ford's mother Joan said the family still did not know the precise circumstances which led to his death.
Her son's body was recovered in a daring rescue mission which made headlines after three colleagues and a Royal Engineers officer strapped themselves to the sides of two Apache helicopter gunships to get him back when he was left behind.
Recording a narrative verdict at the inquest, North Lincolnshire coroner Paul Kelly said: "The nature of the forensic evidence in this case does not allow me to make finding to the required standard as to the origin of the rounds which entered L/Cpl Ford's body causing the injuries from which he died."
Equipment 'shortage'
L/Cpl Ford's family believe a shortage of night vision goggles may have caused the so-called friendly fire incident, something the MoD continues to rule out.
A review of the evidence ordered by the then armed forces minister Bill Rammell concluded last summer there was no need for any further formal inquiries.
As the fourth anniversary of L/Cpl Ford's death approaches, Mrs Ford told BBC News: "We asked for another inquiry but the MoD said they don't think that it warrants another one.
"We asked the coroner for another inquest and he says that the evidence that has been given to him does not warrant another inquest.
"The only thing that is left to do is to get a solicitor and take it further through the courts.
"It is on my mind all the time. I go to bed thinking about it and I wake up thinking about it.
"All I want is that no other parent goes through what we have gone through."
The MoD said L/Cpl Ford's death had been "thoroughly investigated" by the MoD, Royal Military Police, Royal Naval Board of Inquiry and a coroner's inquest.
A spokeswoman added: "A further comprehensive review of evidence presented in those investigations was undertaken between December 2009 and February 2010 and the findings of that review were presented to Mrs Ford and her family in March 2010.
"The Board of Inquiry found the use of night vision goggles would not have made a difference in the circumstances surrounding L/Cpl Ford's death."