East Yorkshire council repays New Year parking fines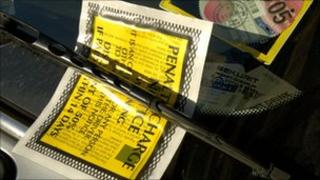 Drivers issued with parking fines by East Riding of Yorkshire Council on New Year's Day are to be reimbursed as a "gesture of goodwill".
The authority said shoppers may have been confused by what restrictions applied because parking charges had been suspended running up to Christmas.
All of the 82 tickets issued will be cancelled or reimbursed.
Council leader Stephen Parnaby said: "It is not the way any motorist wants to start off a new year."
In the three Saturdays leading up to Christmas, the council suspended parking charges, as it has done in previous years, to give a boost to traders and shoppers.
The council said people may have thought the concession still applied for New Year's Day, which fell on a Saturday.
The authority said approximately £2,000 was being reimbursed.
Mr Parnaby added: "We recognise that there has been an element of confusion with regards to the way the New Year bank holiday fell.
"We will reimburse those who have already paid and cancel the tickets of the others."