Scunthorpe community 'awash with methadone'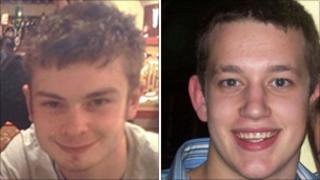 A coroner who examined the deaths of two North Lincolnshire teenagers warned "the community is awash" with the heroin substitute methadone.
Paul Kelly recorded verdicts of accidental deaths on Louis Wainwright, 18, and his friend Nicholas Smith, 19, who both died in Scunthorpe.
Their deaths were initially linked to mephedrone but tests showed they died from alcohol and methadone.
Mr Kelly said he had seen a dramatic rise in deaths caused by methadone.
Speaking at the inquest into Mr Wainwright's death, Mr Kelly said: "My impression, for what it's worth, is that methadone is increasingly more valued as a commodity rather than its therapeutic effect.
"As a consequence, it is my feeling that the community is awash with methadone carelessly, recklessly or criminally mishandled."
The coroner said he would write to the substance abuse directors of the Safer Neighbourhood Teams of the local authorities where he works asking them to review local procedures for reducing the drug's availability on the streets.
Mr Kelly said he had recently dealt with a variety of deaths involving methadone.
The inquest heard Mr Wainwright was found dead at his home in Winteringham by his mother on March 15 last year, after he had gone out with friends, including Mr Smith, in Scunthorpe.
Reaction in brain
Friends described how they had to help him home as he was intoxicated and the court heard how, earlier, police and paramedics were called to check on him by CCTV camera operators.
Similarly, at the later inquest into Mr Smith's death, the coroner was told the combination of alcohol and methadone caused a reaction in his brain which impaired his impulse to breathe.
The hearing was told he went to a friend's house in Scunthorpe to stay after the night out and the alarm was raised when he could not be woken the next day.
At the time, the legal high mephedrone, also known as M-Cat, was blamed for the deaths and the substance was subsequently banned.
'Huge hole'
Det Ch Insp Mark Oliver said there was evidence both of the teenagers had tried to buy M-Cat during the evening.
Speaking at Mr Wainwright's inquest, the officer defended his decision to release details of the deaths and the possible link to mephedrone at an early stage.
He said his priority was to publicise the possibility that there were problems relating to whatever substance was being referred to as M-Cat in the Scunthorpe area at the time.
Mr Wainwright's mother Jacqui said: "His absence has left a hole - a huge hole in all of our lives that we will never be able to fill."
A statement from Mr Smith's family said: "We miss him so very deeply and our lives without him will never be the same.
"Our only hope is that something good can come from this senseless tragedy and that other young people learn from what happened to him and no other family has to endure the pain we feel every single day."