Second time lucky for Grimsby lottery win couple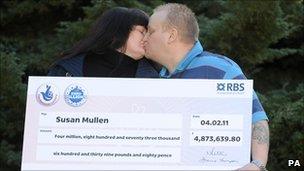 A Grimsby couple who won £4.8m on the lottery have revealed how their numbers came up before - when they were spending the ticket money on nappies.
Susan and Lee Mullen played the lottery every week but stopped when their daughter was born six years ago because they needed the money for baby items.
It meant they missed out on a win, leaving them "totally gutted".
Mrs Mullen then dreamt they would win. The couple started playing the same numbers again and won six weeks later.
Speaking at a news conference, Mr Mullen, 38, said he and his wife were living in a rented property at the time their numbers first came up and could not afford to buy furniture.
"Religiously, every week, we used to do the lottery and when my daughter was born we didn't have enough money, and it was either nappies for my daughter or the lottery.
"Obviously the priority was my daughter so we bought nappies and unfortunately all six numbers that we did every week came in.
"To say that we were totally gutted was an understatement.
"We were a bit disillusioned with it and we thought that was our chance gone, finished."
Mrs Mullen, 40, said at Christmas she dreamt their win would be even bigger and then their numbers came up in the Euromillions draw on 4 February.
Mr Mullen described the windfall as "unbelievable".
"It really is a dream come true. To think you never ever have to look at the label to see how much it is or to worry about what you're putting in your trolley.
"We just can't comprehend that we never, ever have to worry."
Mrs Mullen, who is registered disabled, said the money would make a huge difference since they had been living off just £300 a week for a long time, which was not enough to support them and their four children who lived at home with them.
Related Internet Links
The BBC is not responsible for the content of external sites.