Humber Gateway wind farm gets government approval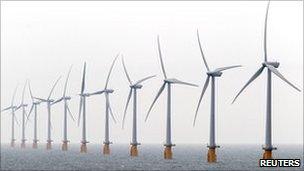 Plans for one of the UK's largest offshore wind farms off the Yorkshire coast have been given the go-ahead by the government.
Energy group E.ON has been granted planning approval for 77 wind turbines five miles (8km) off Spurn Point.
The Humber Gateway wind farm will generate enough electricity to power 150,000 homes a year.
E.ON said about 1,000 jobs would be created during construction which was expected to begin within two years.
Once completed, after another three to five years, the project would provide about 30 operational and maintenance jobs.
Energy and climate change secretary Chris Huhne said: "Offshore wind not only provides clean, green, secure energy, the investment that comes with it is great for the UK economy too.
"A new wind farm off the Humberside coast will be a further jobs and investment boost for the region, hot on the heels of Siemens' announcement of plans to develop the port of Hull."
Michael Lewis, managing director of E.ON's European renewables business, said: "This is really exciting news for us as we see offshore wind as an important part in the future energy mix of the UK.
"It's essential that we continue to invest in renewable technologies and this is further recognition of our expertise in the sector generally and in offshore wind in particular."
The Humber Gateway wind farm is the first offshore scheme to be given consent since December 2008.
Earlier this year, E.ON was granted onshore planning consent for a new substation on industrial land near Salt End, east of Hull.
The substation will connect the Humber Gateway wind farm to the national grid via 19 miles (30km) of underground cable.
Related Internet Links
The BBC is not responsible for the content of external sites.