Hull Lost Trawlermen's Day service held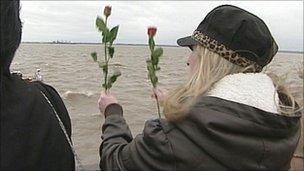 A commemorative service to remember the 6,000 Hull trawlermen who are thought to have died at sea took place on Sunday on the banks of the Humber.
Organised by Hull City Council and fishing heritage group Stand, the Lost Trawlermen's Day service was held at St Andrew's Quay retail park.
Fishermen's Mission superintendent Tracy Oliver gave an address.
Her uncle was among the men lost in the triple trawler tragedy of January and February 1968 when three vessels sank.
Only one person survived from all three crews of the Ross Cleveland, St Romanus and the Kingston Peridot.
Charles Pinder, chairman of fishing heritage group Stand, said: "It was considered that trawlermen had the most dangerous occupation ever and that is indicative of the number of men who were lost at sea, not to mention all those who were seriously injured.
"The service is particularly for people related to or with connections to those trawlermen who never returned home.
"Hull's annual Lost Trawlermen's Day is held around February each year, which was always the time when most Hull trawlers were lost."
Related Internet Links
The BBC is not responsible for the content of external sites.