Hull building sites face safety checks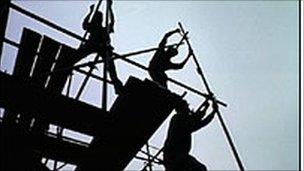 Two men were killed while working on construction sites in Hull and 100 more were seriously injured, latest figures show.
Health and Safety Executive inspectors will be checking sites in Hull and East Riding over the next three weeks.
They said the accident figures released for 2009/10 show workers are being unnecessarily put at risk.
Last year, inspectors visited 150 sites and issued 34 notices to stop dangerous work.
Across Yorkshire and Humber six deaths and 833 injuries were recorded at construction sites.
Inspectors said most of the notices related to working at height, which was how the two deaths in Hull occurred.
HSE inspector David Redman said: "Poor control of risks in this industry is unacceptable, especially when many of the incidents can be avoided through simple precautions."
Related Internet Links
The BBC is not responsible for the content of external sites.