East Yorkshire school prom limousine warning issued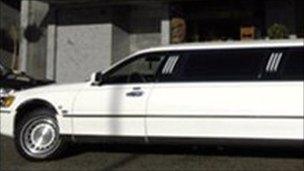 Head teachers and parents in East Yorkshire have been warned to check stretched limousine cars booked for school proms are fully licensed.
The warning about potentially unlicensed and uninsured vehicles comes from East Riding of Yorkshire Council officials.
A spot check in 2010 found two vehicles were unlicensed and had been serving alcohol to under-18s.
Drivers of licensed limousine cars were also checked for previous convictions.
Paul Bellotti, head of housing and public protection at the council, said the law was changed in 2006 so that all stretched limousines had to be licensed.
He said: "Licensing of these vehicles and the use of vetting procedures provides safeguards and protection for the passengers using them."
To get a licence with the council the drivers are assessed for competence, having the correct licence and being medically fit.
The drivers are also screened by the Criminal Records Bureau to an enhanced level for any previous convictions to ensure they are fit to drive the public.
Councillor Jane Evison, whose responsibilities include cultural services and public protection, said: 'If you hire an unlicensed vehicle such as a stretched limousine or novelty vehicle there may be serious consequences for you and your children.
"Just because an advertisement may look professional and authentic does not mean that everything is safe or legal.
"It is important to check the vehicle is licensed and that the driver has been suitably vetted before booking."