Fears 'not allayed' over Humber coastguard cuts plan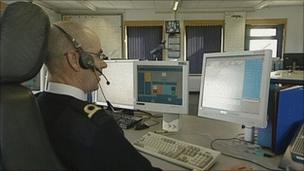 People opposed to planned changes to the Humber Coastguard service have said a public meeting has done nothing to allay their fears.
The government wants to reduce the station at Bridlington from being manned 24/7 to a daylight service as part of national modernisation plans.
More than 100 people attended a meeting on Monday to discuss the proposals.
Yachtsman David Moore said: "It looks like a forgone conclusion... none of my concerns have been allayed."
The government's modernisation plans include reducing the number of coastguard bases from 18 to eight and the number of jobs from 491 to 248.
Six of the centres, including Humber, which are now manned 24/7 would only be staffed during daylight hours.
The Humber Coastguard currently covers 45,000 square miles of sea from the Humber to the Scottish border.
Under new plans the centre in Bridlington would only operate during the day.
Night time cover would be co-ordinated from a new super centre at Lee-on-Solent or from Aberdeen.
The Maritime and Coastguard Agency has said new technology would enable the system to work.
But Steve Stanton, commodore at the Royal Yorkshire Yacht Club, said new technology was no substitute for local knowledge.
"There's nothing better than a pair of eyes and a powerful pair of glasses.
"It is a very busy place and it is worrying that something might happen."
Related Internet Links
The BBC is not responsible for the content of external sites.