North Lincolnshire road repairs team 'under-funded'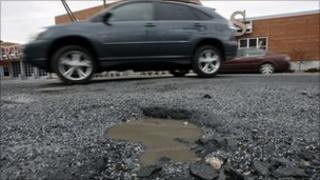 Pothole repairs in North Lincolnshire are hampered because maintenance teams are "under-manned and under-budgeted", according to council workers.
Rob Beales, the council's head of road maintenance, said there was a backlog of work needed in order to bring roads up to scratch.
Road maintenance worker Mick Holland said: "I keep stressing the fact we're under-manned and under-budgeted."
The council said an extra £550,000 was being spent on repairs.
Figures made available after Freedom of Information (FoI) requests from the BBC showed in 2010, North Lincolnshire Council spent £4,020,009 on highways maintenance.
Compensation claims
The figures also revealed the authority has seen a 30-fold increase in the amount of compensation paid out to individuals relating to damage from potholes and highways maintenance.
From 2008 to 2009, it settled claims worth £2,155. That rose to £99,780 in 2009-2010 and dropped to £66,480 in the current financial year.
The council said the increasing figure was not because there were more pothole accidents.
A spokeswoman said the 2009-2010 payment was made up of one large claim and three smaller ones and it had been a similar situation for 2010-2011.
Elsewhere, Hull City Council said the severe winter weather had meant there had been a 75% increase in the number of potholes that needed repairing.
The authority said it would potentially be months before some of the less serious potholes were fixed.
A spokeswoman said: "We prioritise defects on a first worse basis, so one reported today may be fixed within a week and some of the less serious ones may wait a few months to be fixed."
East Riding of Yorkshire Council said it had set aside £20m for road maintenance, including pothole repairs, for the next financial year.
Council leader Stephen Parnaby said: "Highways engineers are concentrating on the main networks across the East Riding to ensure we take a planned and measured approach to the damage."
North East Lincolnshire Council said it was working through a backlog of pothole repairs.
Jason Longhurst, assistant executive director of planning, transportation and housing, said: "This process will take some time. Priority will be given to repairing defects that present the greatest risk to road users, particularly on roads where there is a higher volume of traffic."
Last week, the government said it would be putting aside £100m for councils to bid for if they felt they had been badly hit by potholes