Saltend Vivergo Fuels plant workers blockade entrance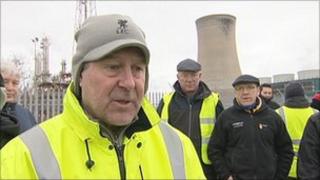 Contractors building a biofuels plant near Hull have blockaded the site entrance in protest over redundancies.
Hundreds of workers employed by Redhall Group prevented access to the Vivergo Fuels site at Saltend, causing traffic disruption on Wednesday morning.
The protest came after 15 of Redhall's 280 employees were made redundant.
Workers dispute Redhall's claim that the lay-offs were carried out in line with a national construction industry agreement known as the Blue Book.
When fully operational later this year, the Vivergo Fuels plant will be the fifth largest bioethanol producer in Europe.
'No alternative projects'
Redhall spokesman Tim Anderson said: "The redundancies were made because the Vivergo project is about three-quarters of the way through.
"As it gets towards the end of the contract people are either made redundant or moved to other projects.
"Unfortunately, there are no suitable alternative projects currently available.
"The Blue Book dictates the terms of redundancies and they were followed to the letter. Redhall has also followed the law to the letter."
Further protests planned
A Redhall worker involved in Wednesday's protest said: "We have had a national agreement with the company and the union as a policy for any redundancies to be done through procedures.
"Unfortunately management have decided they no longer want to be a part of that agreement and have decided they are going to lay off men as and when they want to.
"They did this without any negotiation with the shop stewards on site."
He said unless there was a resolution to the dispute on Wednesday, the workers planned to stage a similar protest at the Saltend site on Thursday morning.