Saltend Vivergo Fuels plant workers' dispute resolved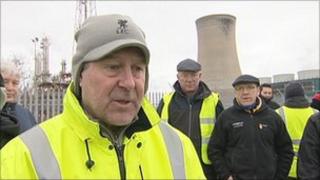 Workers building a biofuels plant near Hull have cancelled a protest after resolving a dispute over jobs.
Contractors employed by Redhall Group blockaded the entrance to the Vivergo Fuels site at Saltend on Wednesday after 15 redundancies were announced.
They disputed Redhall's claim the lay-offs were carried out in line with an industry-wide agreement.
However, a planned second day of action on Thursday was called off after unions and management reached agreement.
After a meeting with managers early on Thursday, GMB union spokesman Keith Gibson said: "The lads have agreed... to return to work bearing in mind that the proposals they put forward to management yesterday have been accepted.
"We always accept in this industry that, unfortunately, we get made redundant at a certain stage, but what the workforce was asking was that it be done as per the national agreement."
Redhall said in a statement on Thursday: "There has been a degree of compromise and the company is pleased there has been a return to work."
On Wednesday, the company insisted it had followed the national agreement and employment law "to the letter".
When fully operational later this year, the Vivergo Fuels plant will be the fifth largest bioethanol producer in Europe.