Lincolnshire council to fine shops for abandoned trolleys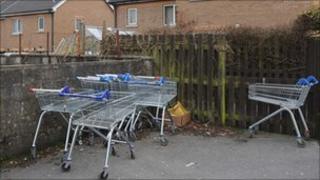 Shops will be charged £75 for the return of every abandoned shopping trolley under plans by a Lincolnshire council that rounds up 30 every month.
North East Lincolnshire Council is currently bearing the cost - around £17,000 a year - of the "growing and persistent problem".
The authority plans to start charging shops £75 for their return or £55 for collection from the council.
Retailers say they are victims of trolley theft and already pay a price.
If, after six weeks, a trolley is unclaimed the council will be able to dispose of or sell it and charge its costs to the owner through the courts.
Retailers 'blamed'
The estimated income from 360 abandoned trolleys each year would be £23,400 - making a profit of up to £9,000 for the council.
A report by Andrew Milner, executive director of community services, states: "The abandonment of trolleys within North East Lincolnshire is a persistent and growing issue that requires officer time and cost to the council.
"Abandoned trolleys cause a nuisance to the local community and, on occasion, damage to the environment."
The council hopes the charges will act as a deterrent to shops and encourage them to make more effort to prevent trolleys being removed from their premises.
The British Retail Consortium said trolleys cost more than £100 each and retailers put in place a number of measures to stop them being taken.
Spokesman Richard Dodd said: "When trolleys are stolen retailers are the victims as they pay the cost and they try to stop that happening.
"If local authorities are looking for who to blame they should take a positive approach to solving the problem with retailers rather than a crude approach that blames retailers and imposes extra costs."