Humberside fire authority partially approve budget cuts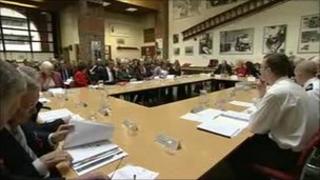 Humberside's fire service will save £5.3m by 2014, but must find a further £1.7m in reductions after its budget was only partially approved.
The semi-approval of Humberside Fire and Rescue Service's budget includes 72 job losses with 70 more under review.
The plans also include stopping 24-hour manning of some specialist appliances.
Humberside Chief Fire Officer Frank Duffield said it would make the service "lean" but he could not rule out fire stations having to close in the future.
'Value for money'
Mr Duffield said: "The public will not see any impact as a result of these decisions and we remain committed to delivering the same high level of response now and in the future.
"It will certainly make us more lean, and I would suggest more efficient and better value for money.
"I can't guarantee that the way we look today will be the same in the future; who could do that? What I am saying is that it's my job now to find that £1.7m to balance the books; we cannot run at a deficit."
The fire service said the 72 jobs from its 1,000 staff would be lost through natural wastage or voluntary redundancy with compulsory redundancy "a last resort".
The biggest loss of jobs would be firefighters crewing specialist appliances such as those used in major fires or road traffic collisions, which would no longer be operated 24-hours a day.
Robert Vaux, of the Fire Brigades Union (FBU), said: "Time in a road traffic collision is probably one of the most important things.
"The quicker you get someone out the more likely they are to survive, so creating a delay in specialist vehicles and cutting equipment getting to these incidents is what's going to have the biggest impact on the community."
Chair of Humberside Fire Authority, Councillor John Briggs, said: "Lives will not be lost, our response will be exactly the same as what it is now.
"When they ring 999 we'll be there with the same standard of professionalism, with the same standard of equipment and within the time that we set ourselves."
The fire service must make a total saving of £7m by 2014, but said the approved proposals would enable the service to meet the budget requirements over the next two years.