Hull fish restaurant Stanton's closes after a century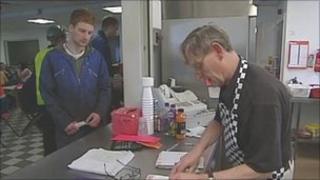 A fish and chips restaurant in Hull's fish market which has been run by the same family for over 100 years shuts its doors for the last time on Friday.
Stanton's Cafe in William Wright Dock was a favoured haunt of the city's trawlermen, some of whom turned up for a last lunchtime meal.
The restaurant is closing as the owners are retiring and nobody in the family is able to take over.
Peter Stanton and his wife Ann are the fourth generation to run it.
Despite the closure, Mr Stanton is hopeful that the family name might continue in the catering trade.
He said: "There just might be a chance that my daughter might start up again."
Visitors came from as far away as Derbyshire to enjoy a final meal.
A group of former trawler captains chartered a coach to be at the restaurant, which was considered to be a fixture of the city's fishing heritage.
And many crews had a last fish supper before heading off to the North Atlantic fishing grounds. The cafe sourced its fish from the freshly-landed catch.
One regular was left in tears at the restaurant's closure. Graham Naylar has been visiting Stanton's three times a week for the past 56 years.
He said. "I think it's sad really. There is nowhere else on the market to go."