Excessive drinkers in Hull face fines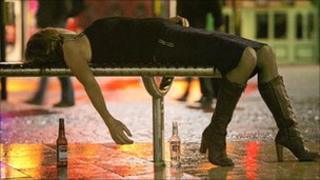 Revellers in Hull city centre who drink so much they cannot look after themselves are being threatened with fines.
Officers will be giving anyone they consider "drunk and incapable" penalty notices.
Humberside Police said irresponsible drinkers' behaviour was taking up police and medical services' time.
Those people would be visited at a later date and also given advice on alcohol abuse.
Insp Barry Longstaff, from Hull's violent crime and licensing team, said: "The vast majority of people visiting bars and clubs in Hull do so within their limits and are able to get home safely.
"However, we continue to deal with people who have drunk to excess and are putting themselves in danger.
"We do all we can to keep people safe while out but if people drink excessively all we can do is deal with the aftermath, where people are unconscious in a pool of vomit and need medical care.
"These people need to understand that this will not be tolerated and therefore they will face receiving a fixed penalty ticket.
"By revisiting those who have been dealt with over a weekend we can also direct them to support to tackle any alcohol dependency."