Village volunteers take over running of Goxhill library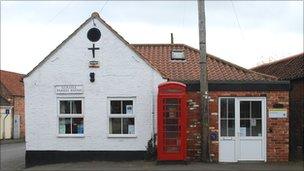 A village library is being run by volunteers after it was threatened with closure due to budget cuts.
A group of 40 volunteers will operate the Goxhill library after North Lincolnshire Council removed funding for staffing and rent.
It offered a once-a-week mobile library service, but villagers said they wanted the existing building to remain open.
The parish council has signed a 10-year contract so the community can run the facility.
North Lincolnshire Council will provide training, IT support and buy books. Other running costs will be paid for by the parish council.
Mike Gathercole, chair of Goxhill parish council, said that initially they were wary of taking over the library, as they have no budget to pay for staff or rent, and were unsure whether the volunteer model would work.
He said "We were a little bit reticent about that because we didn't think that there would be the support from the village to do that.
"But, we canvassed them and we finished up with 40 plus volunteers."
The volunteers plan to keep the existing opening hours and expand the children's section in collaboration with the village school.
A decommissioned telephone kiosk outside the library has been turned into a Book Box, where anyone can donate their own books for other people to take away and read in the event of the library being closed.
The parish council hopes to raise the money to pay for the rent and other running costs by hiring rooms out to local groups and contracting to provide information services for the NHS and other public bodies.
Related Internet Links
The BBC is not responsible for the content of external sites.