Otters found dead in illegal eel trap on the Humber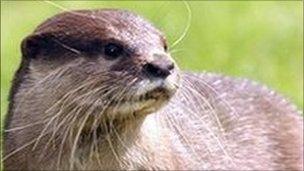 Four otters have died after becoming stuck in an illegal eel trap on the south side of the Humber.
The otters, a protected species, were found at the Barton Clay Pits entangled in a string of four "fyke" nets.
Fyke nets are bag-shaped nets up to 16ft (5m) long, and are usually used to catch eels in rivers.
Phil Smith, Environment Agency biodiversity officer, said it was "tragic" the otters died "in nets being used illegally".
Eel nets must be licensed by the Environment Agency and can only be used with the permission of the land owner.
Mr Smith said otter numbers have made a "good recovery" throughout Lincolnshire after population levels hit their lowest point in the 1980s.
"However, there are still threats to their successful re-establishment such as road accidents.
"The use of illegal nets is another and will not be tolerated," he warned.
Related Internet Links
The BBC is not responsible for the content of external sites.