Barton schoolchildren get lessons in beekeeping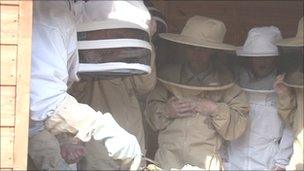 Schoolchildren in Barton-upon-Humber have been given a special lesson in looking after bees.
It is hoped that the lesson will encourage a new generation of beekeepers to help halt the recent decline in the bee population.
The pupils from Castledyke Primary School were presented with special safety suits bought by a local charity.
They took part in a special training session using hives at the town's Water's Edge environmental centre.
There has been a worldwide decline in the honey bee population, which is thought to be connected with the Varroa mite. These microscopic parasites pass on fatal diseases to bees.
A recent report by the University of Reading recorded a 54% decline in the honey bee population in England over the past 20 years.
John Hankinson is from North Lincolnshire District Beekeepers' Association, which helped to organise the training.
He said the association had seen an influx of members in their 20s and 30s, but hoped that the training would encourage children to get involved.
He said "It's a golden opportunity to show children at close hand what beekeeping is about.
"Sadly, in one way, beekeepers tend to have a lot of grey hairs. So we are trying to get a younger generation involved."
There are plans to involve other schools in the project and possibly install hives on school grounds.
One of the participants, Emily Jones, 10, said the day had been worthwhile.
"I've enjoyed being here today because I really like bees and I love honey and I think it's really cool to get closer to bees," she said.
Related Internet Links
The BBC is not responsible for the content of external sites.