Hull foodbank to feed city's hungry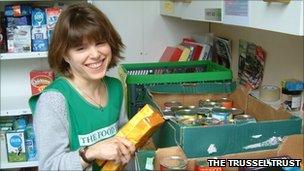 A new scheme to provide food rations to people in need has started in Hull.
The foodbank programme, run by The Trussel Trust, collects food from the public, which is sorted by volunteers and distributed by church groups.
The trust has foodbanks in over 70 locations across the country, which fed 41,000 people last year.
Volunteer Stephen Rippon said it proved that "in Hull we already have a big society".
He said: "We have people willing to give and we have people in need."
The foodbank scheme collects food from the public at harvest festivals, supermarket donation drives and elsewhere.
Donations are then sorted by volunteers and stored in a central warehouse, before being distributed by churches in food packs that last three or four days.
The food goes to help families in times of crisis, when they have to go without food because of redundancy, trouble in collecting benefits or other problems.
"Despite the hard times, it's surprising how many people help," said Mr Rippon.
Hull's foodbank will be up and running by October.
Related Internet Links
The BBC is not responsible for the content of external sites.