Hull students raise money for Japan tsunami fund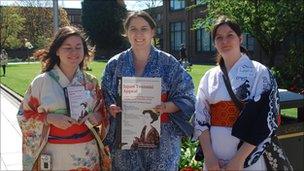 Hull University students held a Japanese culture exhibition to raise funds for tsunami victims.
The afternoon featured a tea ceremony, kimono-wearing, language lessons and displays of Japanese art and culture.
Students from the university's Japan Society organised the afternoon's activities.
Some of the participants had family and friends caught up in the earthquake and subsequent tsunami which hit the coast of northern Japan nearly a month ago.
Tomoko Miyairi, a Japanese lecturer at the university, helped organise the event after talking to relatives and friends in Japan.
She said "We are very shocked. Japanese people have just started to rebuild everything. It takes time, it's really time consuming work.
"People just realise that this is a time we have to unite, work together to recover from the disaster."
One of the student organisers, Hideotoshi Shibayama, has family members who were injured when their home collapsed during the earthquake.
He said the event gave him a chance to "help people in my homeland".
Masters degree student Stuart Hicks said his love of Japanese culture led him to become involved.
"What's happened recently has really pulled at my heart and I want to do what I can to support people there," he said.
"Hopefully to get enough to make a difference to people living in Japan."
As well as raising money the organisers hope the afternoon will teach visitors more about Japanese society and culture.
Related Internet Links
The BBC is not responsible for the content of external sites.