Hull band The Hubbards release new single this week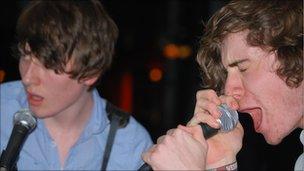 When The Hubbards chose their universities last year, the 18-year-olds did not realise just how much travelling would be needed to keep their band well-rehearsed.
But, trekking back from various cities to meet in Hull has not stopped the four piece releasing a brand new single.
The recording, Little Mistreatment, is released this week.
They will also be supporting Dinosaur Pile-Up at a gig at Fruit in Hull.
Like so many young bands, The Hubbards met each other at school, in their case at St Mary's College in Hull and they picked up other members at Wyke Sixth Form College.
All had their first opportunities through the Hull Music Service.
Guitarist Alex Green said."I played in a jazz band through the Music Service which got me started.
"It all gave us a good grounding in playing live before we ever gigged as a band. We're veteran live performers!"
It certainly shows. For such a young band, this lot know the art of stagecraft with a compelling front man and brilliant interaction between the four of them as they play.
Their session on BBC Introducing on Radio Humberside recently left presenter Alan Raw impressed.
"Even in session, without an audience there, this band were great to watch. I loved the energy and the sheer commitment to every song they played," he said.
So for a band only just starting out The Hubbards don't have to cast their minds that far back to remember their first gig.
"It was at the Lamp in Hull as part of Creative Voice and we all looked at the floor," laughs guitarist Ronan Burns, " but we still got a good reception for a first gig."
Just a year or so after that The Hubbards played Freedom Festival in Hull, drummer Joe Orlowski's "favourite gig so far." There's also been a support slot with Little Comets at The Welly.
"The Little Comets gig was brilliant for us," said Ronan, "there was a big crowd in to to see them and luckily we went down well too."
The band records at The Paddingtons' studio on De Grey Street in Hull with Last People on Earth driving force Paddy Tobin producing. Singer and bass player Reuben Driver said: "We all join in with the writing, usually writing in rehearsal. Someone gets a riff idea and we work around it. "We feel really at home at The Paddingtons' place and working with Paddy has been brilliant."
The band would love to play more festivals this year and take inspiration from headliners they've seen at Leeds Festival as they develop their own live performances.
"Rage Against The Machine in 2008 were brilliant," said Alex, "and The Libertines last year. We love Leeds. It's the best of the all the festivals."
Few who have seen the band doubt that the main stage at Leeds Festival is not beyond their grasp in years to come. If that does happen, they'll be walking in the footsteps of namesake Josh Hubbard, The Paddingtons' guitarist who guested at Leeds with Dirty Pretty Things.
In the meantime, The Hubbards are concentrating on their new release and getting as much rehearsing done as possible when they're all back in the same city for the summer break.
"Little Mistreatment" by The Hubbards is released on Monday 11th April. They support Dinosaur Pile-Up at Fruit on the same day.