Hull amateur feature film gets big screen premiere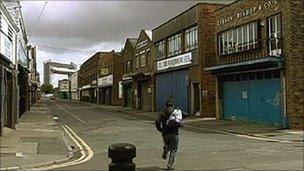 A feature film shot in Hull by two local amateur filmmakers will be premiered in the city.
Friends Craig Briggs and Ian Burnett have spent the past 18 months filming their first full-length feature film, which will be premiered in Hull.
The Reunion is a comedy drama about loneliness, telling the story of three men who are dissatisfied with life and bond over a series of events.
The film has been shot entirely in Hull with local actors and no budget.
The three main characters are played by Mr Briggs, Mr Burnett and their friend John Allbones
Mr Burnett, a media lecturer at Wilberforce College who plays a teacher in the film, said: "Hull has got quite an urban backdrop and we filmed it with that in mind.
"We've shot certain areas like the Old Town - it's got a nice texture to it so we used that quite a lot in our film.
"We did want to use professional actors for the project and when we wrote the script, we had in mind that we were going to get funding but once the doors were closed on that we decided to make the film anyway.
"So we started to use our friends, family and friends of friends; so most of the people in it aren't actually actors but they do come across quite well."
Mr Briggs added: "We just basically funded it out of our own pockets really."
The pair, who have no long-form film-making experience, shot the 150-minute film using standard consumer cameras.
Mr Briggs said: "The end result is that people should be pleased that a film has been made in the city. We think it's a scoop with it being the first feature film even though it's not [professional], it's still an achievement."
The Reunion will be premiered in front of an audience made up of friends, family and those connected with the production at a cinema in Hull.