New homes regeneration scheme in Hull given £8m funding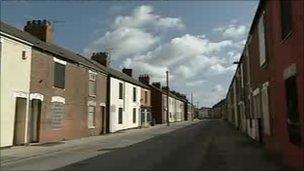 New houses will be built in Hull after a regeneration project was allocated £8m in government funding.
Hull City Council and Keepmoat Homes Ltd have been awarded money for the Gateway scheme, to demolish and rebuild houses in the Orchard Park Estate.
It is hoped the project will generate 839 jobs, 95 apprenticeships and 1,475 new homes.
David Carmichael, from Keepmoat Homes, said receiving the allocation was "great news".
He said: "The next step is to sit down with our partners to ensure we successfully complete this."
The Gateway scheme had to stop its regeneration programme in West Hull after its funding was withdrawn in 2010 following government spending cuts, leaving many streets in disrepair.
Resident Geoff Rimmington, who has lived in the area for 40 years said: "It's brilliant but now we've got the funding we don't want the council to sit back."
The government has allocated £450m to 50 projects across the country from the £1.4bn Regional Growth Fund (RGF) which aims to encourage enterprise, growth and jobs.
Pauline Davis, Hull City Council's Director of Regeneration, said the funding would : "trigger further investment into the city and bring new and refurbished homes, as well as creating job opportunities for local people".
Business Secretary Vince Cable said Gateway was "a very good project".
"It will create a lot of employment and it will also lead to approaching 100 construction apprenticeships and that's why it's been selected from the very substantial number of applications we got."
Mr Cable said the north of England had previously "had a raw deal" with funding compared to the south but RGF was "trying to correct that very worrying imbalance".
The money has been awarded subject to a due diligence process, to ensure the project will be delivered.
Related Internet Links
The BBC is not responsible for the content of external sites.