Sailors' Families' Society celebrates 190th anniversary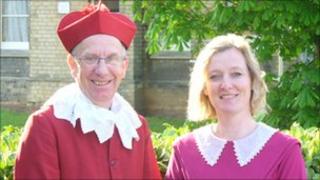 A 19th Century re-enactment is to be held in Hull to mark the 190th anniversary of the Sailors' Families' Society.
The charity has been supporting the relatives of those lost at sea since it was set up in 1821.
It is currently helping 400 families across the UK.
Staff and volunteers will be dressed in period costumes to re-enact the society's first meeting, which took place on Hull's Salthouse Lane, later.
The re-enactment will take place at a pub on the same street.
'Spiritual needs'
Deanne Thomas, chief officer of the Sailors' Families' Society, said: "The re-enactment is a celebration of our birthday to thank the people of Hull who have helped us over the years.
"People have always supported the Sailors' Families' Society and we're still here, we're still doing the same job."
It was originally set up to minister to the spiritual needs of the seamen, who had played a vital part defending Britain during the Napoleonic Wars.
At the time they were seen as a depraved and dangerous section of society.
Even though the initial purpose of the society was religious, the welfare of the seamen and their families soon took on equal importance and the charity set up accommodation for seafarers.
During the 1990s, the society focused most of its work on supporting youngsters.
'Let people know'
One of its residential homes on Hull's Cottingham Road was transformed into a dedicated unit looking after children that were either abused or from broken homes, until its closure in 2004.
Mrs Thomas said: "When Newland Homes closed many people thought the Sailors' Families' Society had also closed as well.
"So part of celebrating our birthday today is very much to let people know we're still here and we're still offering support."
An exhibition of the Sailors' Families' Society is on show at the Hull History Centre until Tuesday 26 April 2011.