East Yorkshire laser maker wins Queen's Award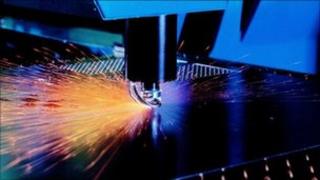 A Willerby-based laser manufacturer has won a Queen's Award for Enterprise.
Rofin-Sinar won the accolade in recognition of its export success in designing and selling industrial lasers around the world.
The company was set up in 1977 by staff from the University of Hull's Applied Physics Laser Department.
Despite the recession, the firm has doubled its exports over the past six years, with 99% of the locally made equipment going overseas.
The lasers are used in a variety of manufacturing processes, from cutting metals, glass and plastics to etching logos on to cans, bottles and clothing.
Buckingham Palace
Managing director Dr Ken Lipton said the award reflected the firm's export focus.
He said: "It is particularly satisfying that our employees and high-tech manufacturing have been recognised for their contribution to our country's global export effort."
The Queen's Awards for Enterprise were established in 1966.
They are designed to recognise UK business success in international trade, innovation and sustainable development.
It is the second time the company has won a Queen's Award. In 2007 it picked up a prize for innovation.
The company will receive its award from the Queen in a ceremony at Buckingham Palace in July.