Youth charged over Grimsby girl's brick injuries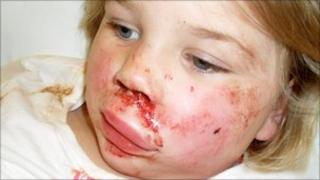 A teenager has been charged over an incident in which a four-year-old girl was hurt when she was hit in the face by a brick thrown through a van window.
The girl's father, 23, had confronted a group of youths for kicking a ball at his vehicle on Hildyard Street, Grimsby, on Thursday.
The brick came through a window, hitting Jersey-Lou Perry in the face.
The 17-year-old boy will appear at Grimsby Magistrates' Court on Thursday charged with attempted wounding.
Jersey-Lou's grandmother Mandy White said she was "in tears" when she saw her injuries.
The youngster suffered a broken nose, a swollen lip and lost two teeth.
She was taken to Diana, Princess of Wales Hospital, in Grimsby, where she was kept in overnight.
Insp Mel Christie, of Humberside Police, said he wanted to speak to all of those who were there.
He said: "She's received some quite horrendous injuries. But it could have been worse.
"We need to know who was involved and we're asking them to come forward. At the moment they will be treated as witnesses."
He said Jersey-Lou was recovering well.