'Uneven' garden opens in Grimsby for fall risk patients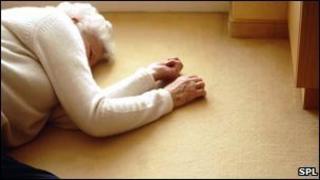 A specially adapted garden featuring ramps and uneven pavements has been opened in Grimsby to help older people who are at risk of falls.
The Upsy Daisy garden is part of a rehabilitation programme for patients at the Hope specialist service.
Charity the Hope Street Trust has raised £11,000 to build the garden at the Hope Street Medical Centre.
Sylvia Leary, from Hope specialist service, said it would help patients "overcome their fears".
Ms Leary, falls collaborative facilitator at the service, said: "The Upsy Daisy garden gives patients the chance to walk up steps and on gravel or uneven surfaces and build their confidence slowly at their own pace."