Knitters create 145m scarf for Withernsea lighthouse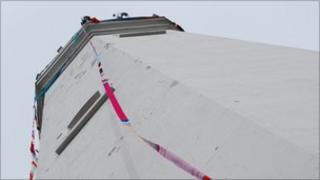 A lighthouse in East Yorkshire has been wrapped in a 145m-long scarf knitted by local people for charity.
Knitters created the scarf after a child said the the white lighthouse in Withernsea looked like a "gigantic snowman".
The £350 raised was given to Withernsea Lighthouse, the RNLI, the Withernsea and District Disability Action Group and Yorkshire Air Ambulance.
The scarf is believed to be the first to be created for a lighthouse.
Tony Simpson, who runs the lighthouse, said: "When it was first suggested I thought it was going to be impossible to do.
"But it looks quite good actually and I'm quite impressed with it."
'Not stripy'
Local resident Anita Phillips, who used to run a newspaper shop in the town, came up with the unusual idea when a child thought the lighthouse resembled a snowman.
"A couple of children, who were on holiday, came into the shop last October and saw a postcard of the lighthouse.
"One of them said 'it's not a proper lighthouse because it's not stripy'," she said.
"It stuck with me and made me really laugh and when we thought about doing something for charity, it just seemed a good idea to knit a scarf for this 'gigantic snowman' of a lighthouse."
Mrs Phillips appealed for knitters to contribute to the mammoth task and said she was inundated with the large number of donated scarves that she, along with friend Donna Ashworth, stitched together.
"People have been coming up to me in the street, when I've been shopping in supermarkets. They've been posting them in.
"I think everybody who's knitted even an inch has done a fantastic job."
The lighthouse scarf has inspired Mrs Phillips to take her idea to new heights and is hoping to embark on another woolly project.
"I think [the scarf] is great but we'll have to do better next year. We're hoping to [knit] a three mile long scarf to go along the promenade, to raise money for various charities."