Mother told to remove items from Hedon cemetery grave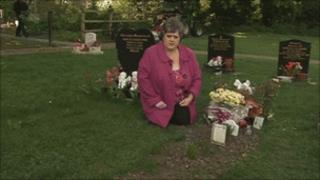 A grieving mother has said she is disgusted after an East Yorkshire council told her she could not lay flowers on her daughter's grave.
Hedon Town Council has written to Karen Betts stating that she cannot put tributes on daughter Hayley's grave.
The council's health and safety policy means flowers can only be kept in the base of a headstone, something Mrs Betts says she cannot afford.
Mrs Betts said: "The council should have a little bit of remorse."
Mrs Betts' daughter was 19 when she died more than a year ago from ovarian cancer.
'Blame and claim'
Mrs Betts said she felt "disgusted and sick" when she received a letter from the council asking her to remove any memorials from the plot in Hedon Road general cemetery.
She said: "This is the second letter I've got. My grandparents are in East Hill cemetery... you can put what you want on there. Why are they so different?"
In a statement, the council said: "This new section of the cemetery is maintained as a 'lawn' area and rules state that a headstone can only be erected on the plot and flower containers are to be set within the headstone base.
"Hedon Town Council apologises for any distress that a request to remove any additional memorials may cause, however, in this era of 'blame and claim' culture the Hedon Town Council must safeguard itself and subsequently its residents and council tax payers from any potential costly claim."