Mystery of designer wedding dresses given to Hull shop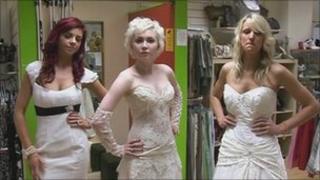 A Hull charity shop has received an anonymous donation of designer wedding dresses.
The city-centre branch of Barnardo's received bags containing the 15 dresses, some of which are thought to be worth more than £3,000.
The mystery donor placed the outfits in two black bin bags on the floor and left without talking to anyone.
Staff only found out the value of the dresses after sorting through the bags later in the day.
Shop manager Stacey Stoner said she would like to thank the person who gave the dresses.
"I've been here 20 years and we've never had a donation of this size. It is a big thing for us." she said.
In royal wedding week, the charity hopes the dresses will be snapped up by customers.
One person trying on one of the gowns was model Alex Young.
She said: "You flick through bridal magazines when you are younger and you think one day I hope I can wear one of these.
"You feel like a princess in it. It's absolutely gorgeous."