Dementia funding in East Yorkshire is criticised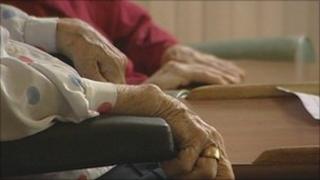 A dementia consultant has said a lack of money in East Yorkshire has left the service struggling to cope.
Dr David Lewley from the Humber NHS Foundation Trust said funding had not kept pace with the rising ageing population.
The East Riding Primary Care Trust said dementia was a 'health priority.'
The trust has one of the worst records in the country for recognising the condition, according to the Alzheimer's Society.
A recent report estimated only 27% of dementia sufferers in the East Riding had a diagnosis.
Nationally the diagnosis rate is 40%, according to the Alzheimer's Society.
'Limited resource'
Dr Lewley said: "Unfortunately we've had to try and manage an increasing population of older people.
"More and more is being asked of a very limited resource, in comparison with other areas of the country."
East Riding Primary Care Trust has admitted it does not know how much is spent on dementia care.
The trust said in a statement: "We are working with GPs, the local council and others to ensure the best possible services for people living with dementia within the resources available.
"Since the publication of the report we have increased the number of people recorded on the GP register with dementia, which helps us identify those who need specialist support at an earlier stage."