Hull policeman goes back on the beat after 25 years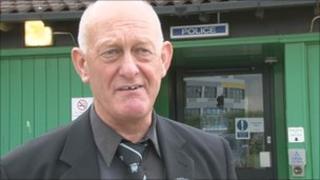 A Hull police officer featured in the BBC's Domesday project in 1986 has returned to his former patch.
Roy Scruton was a constable responsible for community policing in east Hull when he featured in a Domesday article.
He returned to visit his old beat as part of Domesday Reloaded, which is putting the 1986 material online for the first time.
Mr Scruton met up with the current community officer, PC Dave Worrall, to see how policing has changed.
As well as his policing duties, Mr Scruton helped with local youth clubs and organised adventure weekends for local youngsters. He received an MBE for his community work.
The retired officer said the biggest change was the increasing use of technology in the fight against crime:
"In my day there was no CCTV. So if we got regular thefts or burglary or damage I would have to come for eight hours and sit and watch, hoping that the people would come back again and have another go," he said.
Mr Scruton said that the type of crime is broadly similar to this day. However, the type of equipment carried by a modern officer is vastly different.
He said: "They've got all the body armour and all the equipment to carry with them.
"I managed with a truncheon and a pair of handcuffs in my day."