Man Made Noise release new album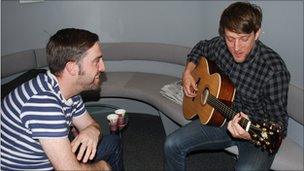 Hedon band Man Made Noise have taken a year over their new album but, for all concerned, it has been worth the wait.
The four-piece have a reputation on the Hull music scene for their experimental song-writing and production.
The band used a variety of local locations to record the album. The backing vocals were recorded at St Augustines Church in Hedon
The new works is called Man Survives and will be launched at a special event at Fruit in Hull Marina in June.
Recording at Fairview Studios
Man Made Noise took great pains over the release which began a year ago at Willerby's Fairview studio with the drums and bass tracks being laid first.
The over dubs were then completed at the band's garage in Hedon which doubles up as a studio.
Front man Terry Dunn explained: "There were times, before the final mix, when we thought we'd never finish.
"We even left a song off in the end because we had to draw a line under it and get the thing released."
The band were united in their desire to achieve as near perfect an album as they could manage.
"We kept saying, let's give it another two weeks. And another," laughed guitarist Shaun Chance, "but in the end we just had to go with what we had and we think it's great, we're really happy with the end product."
Man Made Noise formed in 2009 but all the band members have been around on the Hull music scene for a number of years, with Terry fronting Adelphi favourites Ernest, and Shaun starting out with Diablo.
"I came back from travels in Japan with a load of songs in my head and a clear idea of what I wanted to achieve," said Terry, "and I knew that I wanted to work with Shaun. "We started out with an acoustic gig in Hull and it was a nightmare trying to heard over all the talking. I knew then we needed to get a band together."
The Man Made Noise line up was completed with the addition of Gavin White on drums and guitarist James Markham making his debut on the bass. James works at Fairview studios as an engineer so according to Terry, " already had ideas in his head on how the songs should sound. It's been great working with someone so skilled as a producer."
The band rehearsed in Terry's garage-cum-studio and straight away they knew they were producing something very special.
They now plan to gig a lot and are hoping to tour Japan at the end of the summer. Terry has strong ties with the country after his travels and said the band will go down well there.
"The Japanese love music and there's total respect for live performances" said Terry, recalling his time there, "and we can't wait to go and play there again, especially after the devastation of the earthquake in March. We feel we want to give something back."
"Man Survives" by Man-made Noise is released on the band's own Crash Tested label on 11th June at Fruit in Hull
Related Internet Links
The BBC is not responsible for the content of external sites.