'Record price' for East Yorkshire pigeon unable to fly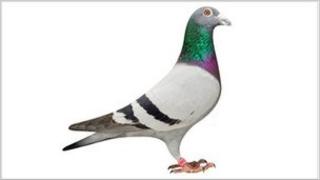 A racing pigeon from East Yorkshire has been bought for a "record breaking" £16,000, despite being unable to fly.
It is believed the price paid for Champion Treble Six is the highest ever for a pigeon bred in the UK.
The six-year-old pigeon was retired in 2009 after breaking a wing, but Kerry Mellonby from Bridlington kept the bird for breeding before deciding to sell.
The winning bidder came from China, and the pigeon will be sent overseas within the next month.
'Superstar pigeon'
Champion Treble Six was crowned Yorkshire Middle Route Performance Bird of the Year in 2007.
"He was a superstar pigeon. I nicknamed him 'The Banker' because he was so reliable with winning," Mr Mellonby said.
"The auction price summed up my life with him."
Mr Mellonby made the decision to sell Champion Treble Six because of market interest in the pigeon's bloodline.
The sale was made through Pigeon Paradise, a specialist online site based in Belgium.
Owner of the site, Nikolaas Gyselbrecht, said: "I believe for a pigeon bred in the UK, this is a record price.
"I think there is a bright future for pigeon racing in the UK."
On the Continent, pigeon racing is a popular sport and the birds can sell for up to a quarter of a million Euros.